M.S. Idaho State University, Speech Language Pathology
B.S. Idaho State University, Communication Sciences and Disorders
Certificates:
ASHA Certification
Licenses:
Oregon Board of Examiners for Speech and Language Pathology
Idaho Bureau of Occupational Licenses, Speech and Hearing Sciences Licensure Board
My husband and I were both born and raised in Idaho raised our children in Idaho.  As a mother,  I always wanted my kids to have the best opportunities and tools they needed to become confident and successful in all they desire in life.   As an SLP in the schools, I wanted to make a difference and provide everyone with the best tools and opportunities to reach their full potential also.
While working in schools, I saw so many kids struggle to make progress in speech, which led me to further research in speech sound disorders, the oral structure and motor patterns of speech.  After working for school districts for years. I decided I want to make a bigger difference by providing a more focused, specialized therapy.  I now treat speech disorders with a special interest and training in Orofacial Myofunctional Therapy.  I also saw the need for private therapy services in Caldwell and surrounding areas.  I wanted to make sure that people in rural areas have the opportunity to find and use these services also.
I am dedicated to building trusting and collaborative relationships with kids, their families and other professionals and devoted to the big picture of well being. 
I believe that empowering families with the tools needed for continued growth, outside of therapy sessions, advances progress.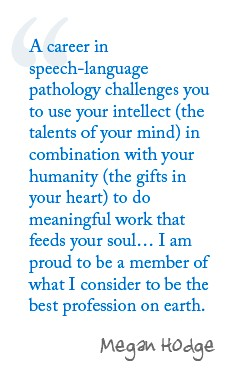 Education:
M.S. Idaho State University, 2019, Speech-Language Pathology
B.S. Communication, Boise State University 2008
Speech Language Pathologist- Clinical Fellow
I love Idaho and I hope I never have to leave this wonderful western state where I get to enjoy the four seasons and many amazing outdoor activities. I was born and raised in Boise and I currently live in Caldwell with my wonderful husband of 16 years, my son Luke and our three adopted pound puppies!
My former life in corporate management left me unfulfilled and after doing a lot of research I stumbled upon speech-language pathology and I could not get enough! Human connectedness is what makes life fulfilling and communication is the key.
So I embarked on a new journey through graduate school to learn the philosophy and science of how to positively help others who struggle to communicate effectively. Now I always have a smile on my face and the best daily gifts are when I see the kids I work with achieve their goals and make themselves and their parents proud! I am so thankful to have worked with and studied under several hardworking SLPs in the valley while working in elementary schools, adult outpatient rehab, and pediatric private practice. It is true! When we go beyond words and focus on communication all people can find connectedness.
Maria Figueroa, MS SLP-CF
Education: 
M.S. Idaho State University, 2019, Speech-Language Pathology
B.S. The College of Idaho, 2011, Speech-Language Pathology and Audiology with Minors in Biology and Spanish
B.S. Idaho State University, 2011, Communication Sciences and Disorders
License:
SLP Provisional Permit through the Idaho Bureau of Occupational Licenses, Speech and Hearing Sciences Licensure Board
I'm a bilingual (Spanish/English) speech-language pathologist currently working on completing my clinical fellowship. I have medical (acute care in a hospital setting and outpatient rehab), pediatric private practice and school (elementary and secondary) SLP experience. I have experience working with children and adults with a wide range of disabilities, from a variety of cultural and linguistic backgrounds.
I first got interested in Speech-Language Pathology after my grandmother had to undergo a medical procedure that resulted in her loss of speech and swallowing skills. As I witnessed her progress in regaining these abilities through therapy, I was immediately inspired to learn more about the profession. I completed my undergraduate program in Speech-Language Pathology and Audiology in a cooperative program between Idaho State University and the College of Idaho, with a secondary focus in health sciences, biology and Spanish.
Prior to starting my studies in the Master's program, I worked as an SLP aide at two elementary schools in Idaho.
I'm passionate about helping my clients reach their goals and improve their quality of life, through habilitative and rehabilitative therapy that is focused and personalized to the individual client.